DVD Review– Turn: Washington's Spies– Seasons 2 & 3
Based on an irresistible true story, though streamlined and reimagined for dramatic purposes, Turn: Washington's Spies centers on a small group of amateur spies ("the Culper Ring") as they gather intelligence at the behest of George Washington in the hopes of winning the Revolution.
At the center of the series is Abe Woodhull (Jamie Bell), a cabbage farmer who has found his purpose in life spying for the Patriots. Abe is assisted by his friends, the determined army officer Major Benjamin Tallmadge (Seth Numrich) and the jovial agent Lieutenant Caleb Brewster (Daniel Henshall). As the second and third seasons progress, Abe slides into dark places that he may not be able to escape, which makes Henshall's buoyant performance a likeable contrast in the series.
Though the first season needed a little time to find the right tone and pacing, by the second and third seasons the series started to really shine. Over the course of the latter seasons, issues ranging from Washington's self-doubts to the treason of Benedict Arnold loom heavily over the plotlines, making the Revolution a character-driven affair about flawed people wrestling with their consciences and trying to make the best of impossible situations.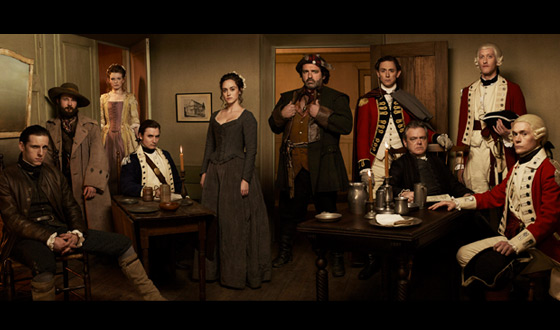 The increasingly large cast is too big to address here, and their relationships too complex to delve into properly, but the cast is uniformly strong, particularly Kevin R. McNally's Judge Woodhull and Angus Macfadyen's Robert Rogers. The female characters also come into their own by the third season, including Anna Strong (Heather Lind), Abe's on-again, off-again lover, and a remarkably quick study at the spying trade.
It should be noted that though the show is very entertaining, there are many historical inaccuracies. The real Anna and Abe probably weren't lovers, and the historical Anna was much older than portrayed on screen. Additionally, the chief villain of the series, Captain Simcoe (a magnificent Samuel Roukin), was by many accounts a much nicer guy than the psychopath on the show.
Turn should have gotten awards and a much bigger viewership, but not every terrific show gets the proper recognition. A fourth– and final– series is coming soon, and given where the third season ends, it seems as if the pacing is set for an intense and potentially satisfying final ten episodes.
–Chris Chan
Turn: Washington's Spies– Season 2 & Turn: Washington's Spies– Season 3
Starz/Anchor Bay
2016
DVD $49.98