Interview: Don Winslow on Drug Cartels, The Border and Why We Love Crime Novels
Ever since Raymond Chandler and Dashiell Hammett revolutionized the crime novel with hardboiled heroes, gritty settings, and moral complexity, countless authors have tried to carry the torch. One of the few to truly perfect modern noir is Don Winslow. Since 1992, he has written more than twenty novels, which have been translated into over thirty languages and sold millions of copies. Several of his books have been adapted into successful films, further cementing his reputation as a crime fiction master.
 Don Winslow's latest novel in his Cartel series, The Border, was released in February 2019 by William Morrow.
AFG: Tell us about your latest novel.
DW: Well, it's called The Border, and that's pretty much what it's about. It's the third and final installment of what's become known as the Cartel Trilogy—The Power of the Dog, The Cartel, and now The Border—and it follows Art Keller as he becomes the head of the Drug Enforcement Administration and finds he has to battle corruption at the highest levels here at home. It's also about immigration. We follow a ten-year-old Guatemalan boy fleeing gang violence; the heroin epidemic through the experience of a young woman; an NYPD cop; and convicts in California prisons. So it's about the physical border, but also internal borders—the ethical lines that we will or won't cross. And if we do cross them, can we ever cross back?
AFG: Your mom was a librarian. How would you say that formed your reading habits?
DW: It was sure a big part of it. My dad was a career Navy man who loved books, so I've often said that my dad was a sailor who loved books and my mom was a librarian who loved a sailor. There were always books around our house, and we—my sister and I—were allowed to read anything we wanted at any age. We spent a lot of time in my mom's library prowling the shelves—this was in a small New England town, and it opened up the world to me. I could go to Africa, to England, I could go to another century, anywhere I wanted. I don't think it's a coincidence that both my sister and I became professional novelists.
AFG: At one time you worked as a private investigator. Have you drawn on those experiences when crafting plots, or was it the case in which investigating work had very little [Philip] Marlowe but instead, a lot of tedium?
DW: You know, I've rarely used any of my cases in my books, except in one called California Fire and Life. I've used some of the broader experiences as background, but that's about it. I do think being an investigator made me a better researcher, which has certainly come to play in my books. Yeah, there was very little Marlowe (as much as I love him) in my work. And a lot of tedium, although now I can confess that I used to read Elmore Leonard and Lawrence Block on stakeouts. So much of investigative work is actually paperwork—going over thousands of pages of police reports, witness statements, trial transcripts, legal documents, bank records, that sort of thing. Actually, I kind of liked that aspect. I do a lot of the same things now in researching my novels.
AFG: I remember reading an intro that Martin Gardner wrote to a collection of G.K. Chesterton's Father Brown mysteries and he made the point that so much of what we see in detective fiction is unrealistic, even when it comes to the grittier classics by [Dashiell] Hammett and Chandler.
DW: I'm more a Chandler guy than a Hammett guy. I never had Marlowe-like experiences on the job, but I don't care about realism [regarding the profession] from him. The man was writing poetry, the realism came from his knowledge of the human soul and his ability to express it with such soulfulness. If I write for a hundred years, I'll never write anything as good as The Long Goodbye. "The first time I laid eyes on Terry Lennox he was drunk in a Rolls-Royce Silver Wraith outside the terrace of The Dancers." I mean, come on. But yeah, I never sat behind my desk with my feet up when trumpet music started and a long-legged blonde walked in. I mean, that's happened at home, but I had a jazz record on and it was my wife.
AFG: Tell us what your writing process is like. Are you an outliner or do you have an idea and see where the story will take you?
DW: The latter. Look, I may have a broad idea where I want to start—I mean, when you pull out of the driveway you have to turn right or left—but I want to stay open to possibilities. I don't slavishly follow an outline just because I took the time to write one. Outlines can be useful guides, but they can also be shackles. And it's funny, isn't it, when you start typing sometimes the story just takes off in directions you never planned, and that has turned out to be my best stuff. I wrote a book called Savages and started with two words (the second one was "you" and the first one . . . wasn't), and all of a sudden I was writing from the point-of-view of a twenty-six-year-old California girl (which I'm not). So you never know.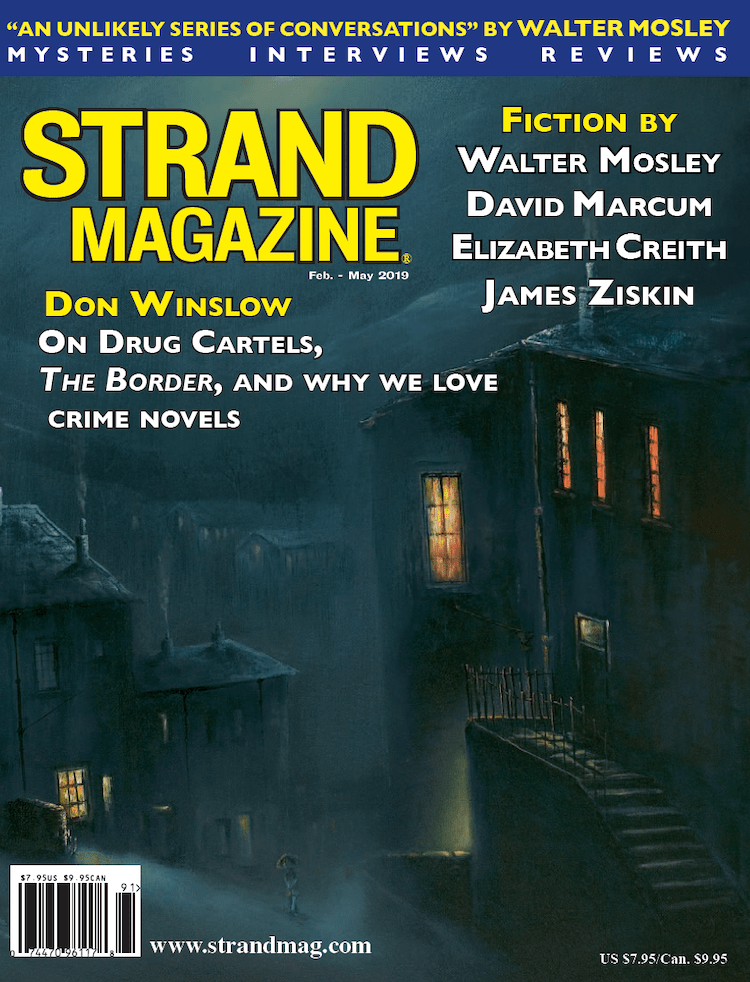 AFG: I hardly go to panels, but one of my favorites was yours in Madison, Wisconsin, where you read aloud a love scene from one of your books. And what struck me was that every single word or phrase had a purpose—complete economy. Do you start writing with that goal in mind or does that happen during the revising process?
DW: I rarely go to panels either. But I remember that one. You know how that happened? Ken Bruen and I didn't plan a thing, because it was at 8:30 in the morning and we didn't think anyone would be there. We thought we could do it in a phone booth and we'd be talking to each other, which we had done often and didn't require planning. We walk in and the place is packed. We walk up to the dais like it's the gallows, with people staring at us, expecting us to say something semi-intelligent, and there's just silence. Then Bruen leans into the microphone and says, "Don Winslow will now tell sex stories." So I read that scene.
But to answer the question you asked, it happens during the revision process. I read it through to make sure that every word is doing something. My philosophy is that every word has to pay rent, or at least do the dishes or take out the garbage. No freeloaders. I kick a lot of words out of the house. (Not the case in this interview, obviously.)
You can find Don Winslow's complete interview, along with fiction by Walter Mosley, James Ziskin, and David Marcum in our latest issue