Interview: Heather Graham
(EXCERPTS)
For many novelists (and their publishers), creating a series character for readers to follow through multiple books can offer security for years to come. For some, it can even sustain entire careers. However, that kind of conventional wisdom never fully resonated with best-selling author Heather Graham, who for the last thirty-four years has continued to introduce unique characters in more than 150 books across different genres, establishing herself as one of this generation's most successful writers.
In the early 1980s, after the birth of her third child, Graham made the decision to stop working at a job that would take her away from her children, and as a result tried her hand at writing. She sold her first novel, a romance titled When Next We Love, in 1983. Yet a successful romantic novel was just the beginning, and Graham went on to explore the paranormal, vampires, horror, suspense, thrillers, and even historical mysteries. One of the keys to her success has been this very versatility as an author, which keeps readers and critics guessing at what she'll come up with next. She is also as prolific as they come, with eleven trilogies, several series, a slew of collaborative works, and dozens upon dozens of standalone novels. But whether she is tracking an elite group of investigators with paranormal powers as they solve historical crimes in her Krewe of Hunters series, or plumbing the minds of Civil War-era vampires in her Vampire Hunters trilogy, Graham always surprises, entertains, and tantalizes.
In 2013, Graham introduced New Orleans antique shop owner Dani Cafferty and former cop turned PI Michael Quinn in Let the Dead Sleep. Subsequent novels in the series have brought more antiques and ancient art with unusual qualities, presenting the crime-solving duo with increasingly baffling mysteries in which the past and present collide. And through the author's vivid depictions, the Big Easy itself competes as another character.
Graham has received numerous awards, including The Silver Bullet Award from International Thriller Writers, and two Reviewers Choice Awards from the Romantic Times for the novels Love Not A Rebel (1989) and The Viking's Woman (1990). In 2003, she received the Nora Roberts Lifetime Achievement Award from Romance Writers of America.
Heather Graham's latest novel, Flawless, will be released by Mira Books in March.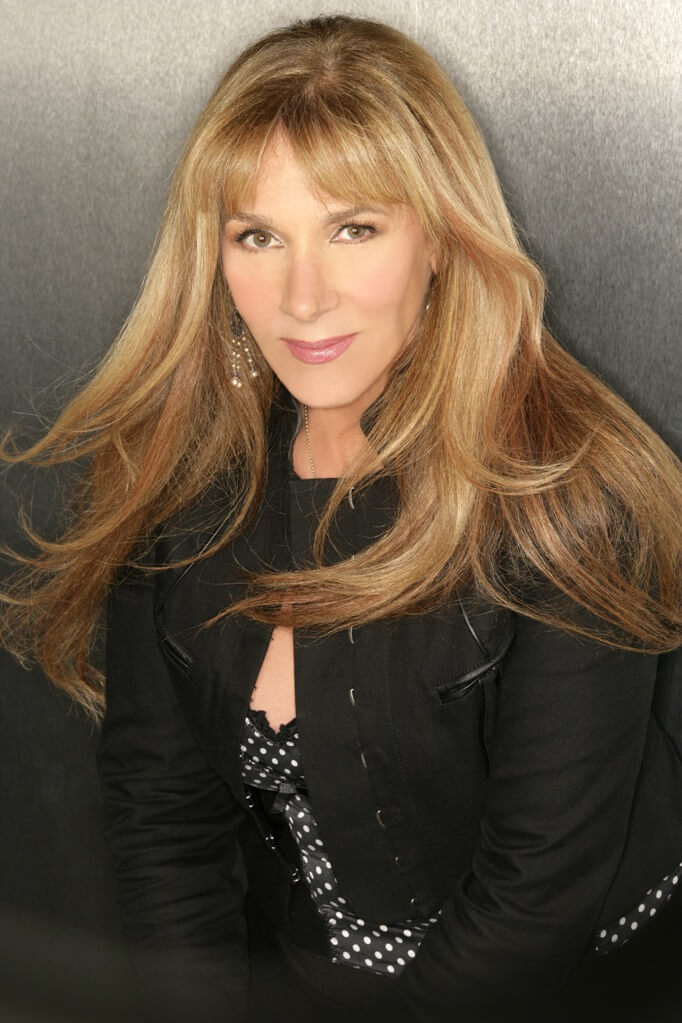 AFG: You're a very prolific author, how do you manage to write so many diverse books without running out of ideas?
HG: Life! There's always something happening—something in the news, a new place, or a new experience at an old place. My children and their friends have had some amazing jobs and experiences in their lives and I've used them all. (I'm afraid some of them may twitch when they see me coming!) One of my second son's friends is a "fabricator" with Legacy Studios in Los Angeles and she was able to bring us through the studios one day. The movie creations there are amazing—and so diverse. You can see an adorable talking pig (insurance commercials) standing next to the most horrible zombie. She's a costumer as well as a creator; one of her jobs was to dress Robert Downey, Jr., as Iron Man.
AFG: What are some of the books we can expect to see from you this year?
HG: Right now, I have a Cafferty and Quinn novella out—Blood on the Bayou—and I'm in NOLA working on an upcoming conference, so it's kind of fun to go to Royal Street and imagine that the shop I invented is really there, right among a number of venues I love. Also, next month, The Dead Play On (Cafferty and Quinn, too) will be out in paperback. …
The series has been fun for me. The first is based on a story I heard about regarding a real crime: a man claimed that a statue made him kill his victim. The second book in the series was also based on a real situation—and I loved reading about it so much that I'd forget I was researching to work and just keep reading and reading and looking at different sources. There was a mini ice age that covered the globe for centuries, from the Middle Ages to, some scholars say, approximately the early 1850s. This ice age might have been the influence on many monumental events in history—such as, the French Revolution. It was so cold that crops couldn't grow and there was no food. The people revolted because they were starving. Had they had plenty to eat, who knows what might have happened? The book itself is based on Mary Shelley and the "year without a summer." If the weather had been normal, Mary and her friends would have summered on Lake Geneva and gone boating, played tennis, done all kinds of outdoor activities. Because they couldn't go out, they made their bet to write books. The great famine in Ireland circa 1859 was also a result of this freeze, sending hundreds of thousands of starving Irish to American shores.
The third book in the series (The Dead Play On) is based on the magic of music in New Orleans, and friendship, and a passion to prove the truth about the honor of a friend—even when that friend is gone. I wrote that after being privileged to attend a USO Tour for Thriller Writers with Kathy Antrim, F. Paul Wilson, Harlan Coben, and Phil Margolin. I wish everyone in the world could go on such a tour—what our military men and women do for us is amazing, and visiting Walter Reed hospital in Washington and the military hospital at Landstuhl is beyond humbling. I know that I will never be able to thank all our men and women in the service for what they do for us. Let's face it—we're Americans. We're never going to agree on politics. But our military put their lives on the line, whether they agree with the powers that be or not.
In April, the first of a new series, Flawless, will be out. It will be my first straight suspense in a few years (no paranormal elements.) My mother was born in Dublin, Ireland, and my dad was from Stirling, Scotland, so the concept of an incredibly old pub in New York City owned by one family for nearly 150 years was a lot of fun. (Drawing on a lot of relatives and family friends is fun, too. Of course, the names are changed!) Most of my dad's family passed away when I was young, but I grew up with Irish Americans and they were truly crazy in all kinds of wonderful ways. My great grandmother was one of the best storytellers I've ever known; she could tell us all kinds of things and we believed them. (Yep, banshees could get bad children in the outhouse, even if we didn't have an outhouse. And, of course, everyone knows that leprechauns truly exist.)
[The pub in the book is] Finnegan's on Broadway and it's owned by the four Finnegan siblings. The oldest manages and runs the pub while the others have their different jobs but chip in as wait staff or bartenders when they can or when they're needed. Kieran Finnegan works for psychiatrists who are consultants with the FBI and the NYPD. Her degree is in psychology, and she works with them as a therapist and does assessments on people who may or may not be criminally responsible for events in their lives, who have been abused—or who might be abusers. It's a different path for her. As kids, she and her brothers all got into a bit of trouble after their mother died, but not vicious trouble. They stood up for those being bullied, but sometimes their passion to do right was vented in very bad directions. The Finnegan siblings are all grown up now, but when Kieran's brother helps a friend pull a revenge stunt, Kieran is somehow the one who winds up in the middle of a series of deadly diamond heists—and working with FBI agent Craig Frasier. It's not an easy task, becoming involved with such a man while trying not to involve her errant sibling. Especially when ties to murder begin to become evident at Finnegan's Pub.
The summer will bring three Krewe books, all based on ships owned by the fictitious Celtic American Line. The first features a piano hostess and the Caribbean, the second, Alaska, and the third, the Mississippi River—with a great deal based on a really touching true story that occurred during the Civil War in St. Francisville, Louisiana. Haunted Destiny came about because of a business cruise—and a great piano host! The second because I believe one of the most fantastic trips anyone can take is a cruise to Alaska. The geography is so amazing and, of course, nature so unrelenting. The third came about because of that true story—"The Day the War Stopped"— when a Union Navy captain, busy shelling Confederate forts along the Mississippi, caught a horrible fever and, in his dementia, shot and killed himself. His good friends and fellow officers aboard the ship couldn't bear the concept of dropping his body into the Mississippi River. They all happened to be Masons and they went ashore by way of flag of truce. They asked if someone would find the head of the local Masonic Lodge. He was off fighting, but another man in the leadership of the lodge was a cavalryman who was in the vicinity. The men from the Union ship and from the Confederate cavalry met and talked. The next day, both forces called a truce and the Union Navy captain was brought about to be buried. He is still in the cemetery in St. Francisville—along with the Confederate cavalryman who arranged for his proper burial. St. Francisville is also host to The Myrtles Plantation—if you watch ghost or travel shows, you'll know that The Myrtles is supposed to be one of the most haunted places in the world. Years ago, we took the plantation for a weekend to film a trailer. I love the concept that the dead might remain sometimes—and help out when necessary.
AFG: What inspired the Vampire Hunter books? Were you one of those people who watched the Hammer Studios Dracula movies when you were a kid?
HG: Yes—I love Hammer films. Vincent Price, Peter Lorre, twisted Poe, and all of those old movies. Also, I had great parents—I'm sure that many might not have allowed their kids access to Lovecraft, Poe, and other great storytellers as early as mine did. They were both tremendous readers.
My first vampire was—way back then!—a bit of a twist, Beneath a Blood Red Moon. Maggie becomes a vampire in the middle of the 1800s, but, due to her dad's determination to save her, she's part vampire and part human. In order to maintain her place (a store in NOLA, too!), she leaves every so many decades and then returns as her own descendent. When dead bodies start cropping up and blood drops lead to her, she has to work with a local detective and convince him that vampires do exist in order to stop the killing. I used stories from a great tour in Scotland for the second book, When Darkness Falls.
AFG: You're a very successful paranormal suspense author, but what's your response when people say, "Ah, the ghost did it, so why do I have to read the rest of the book?"
HG: The ghosts aren't the killers in my books; they are sometimes able to help with the investigation. I like the idea that the dead would be very much the same in their spirit lives as they were when they were living, as far as morals, personality, and so on. They don't suddenly become omniscient—sometimes they see things or know things and sometimes they don't. Also, we have different skill levels, which might be the same as well. Some ghosts can learn to make noise, some are shy and hide from strangers. Hey, some people can climb ropes, some can't. The dead would still be us; they are our souls, or whatever it is that makes us who we are as human beings—in my stories, at least.
AFG: In your wildest dreams, did you ever think you'd achieve the level of success that you have?
HG: I'm incredibly grateful to be able to write for a living. The world is, thankfully, filled with books. There are so many wonderful authors. We're only successful as long as we can continue writing stories that people want to read. I always hope that I can continue telling such stories—that I'm lucky enough to get to do this for the rest of my life.
AFG: Did anyone inspire the Cafferty and Quinn series?
HG: Actually, my one really strange experience was part of the impetus. My father-in-law—a great guy—was Italian and very Catholic. But, he also just loved all kinds of spiritual and religious programs. When he died, I was with him. And he had gone into a coma and they told me he wouldn't come out of it. Later, he sat up, opened his eyes and reached across the room, as if taking someone's hand. I always figured that if there were angels or greeters and there really is a heaven, those angels would come for my father-in-law. He was just so strong in his belief, and also an incredibly kind and easygoing man. I also know someone very much like Quinn in one way. His youth was what they call totally misspent. He was addicted to alcohol and drugs. And people and money, and more, came to him far too easily. Close to death, he made a complete turnaround. In Quinn's case, he was so loved because of his sports prowess that he was showered with anything he wanted by an adoring public. When he actually flatlines in an emergency room, he has an out-of-body experience, and when he survives, he turns everything around in his life and decides that he's taking his second chance to help others. Quinn meets Danni's [Cafferty's] father while he's still alive and working and "collecting." I've always admired people like Quinn—those able to really turn things around, but not just turn his life around, but help others. He's very human, though. He truly loves his guitar. He's not as good as many of their musician friends and he knows it, but still loves those occasions when he's able to sit in with friends playing as local bands.