Description
Top Fifteen Crime Novels of all time Box Set
The Hound of the Baskervilles by Sir Arthur Conan Doyle

Perhaps the most popular of all Sherlock Holmes stories, The Hound of the Baskervilles combines the traditional detective tale with elements of horror. When Sir Charles Baskerville is found dead on the wild Devon moorland with the footprints of a giant hound nearby, the blame is placed on a family curse-and it is up to Holmes and Watson to solve the mystery of the legend. Rationalism is pitted against the supernatural and good against evil, as Sherlock Holmes tries to defeat a foe almost his equal.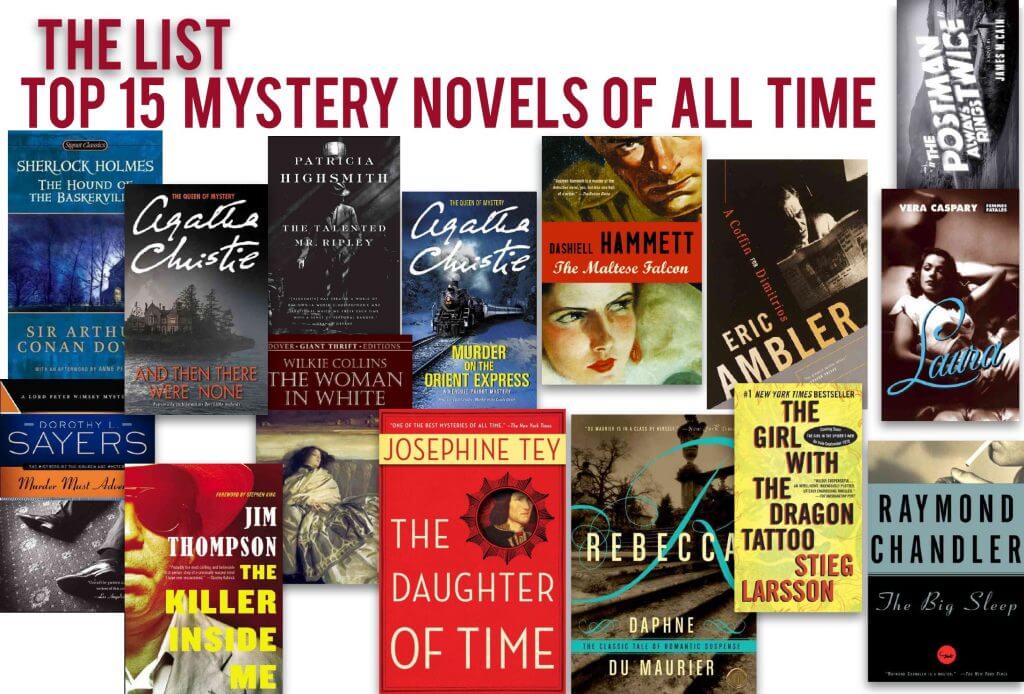 And Then There Were None by Agatha Christie
A killer stalks a group of ten total strangers on an isolated island off the Devon coast, in a suspenseful story of murder and retribution set to a sinister nursery rhyme.
The Woman in White by Wilkie Collins
Generally considered the first English sensation novel, The Woman in White features the remarkable heroine Marian Halcombe and her sleuthing partner, drawing master Walter Hartright, pitted against the diabolical team of Count Fosco and Sir Percival Glyde. A gripping tale of murder, intrigue, madness, and mistaken identity, Collins's psychological thriller has never been out of print in the 140 years since its publication.
The Talented Mr. Ripley by Patricia Highsmith
Since his debut in 1955, Tom Ripley has evolved into the ultimate bad boy sociopath, influencing countless novelists and filmmakers. In this first novel, we are introduced to suave, handsome Tom Ripley: a young striver, newly arrived in the heady world of Manhattan in the 1950s. A product of a broken home, branded a "sissy" by his dismissive Aunt Dottie, Ripley becomes enamored of the moneyed world of his new friend, Dickie Greenleaf. This fondness turns obsessive when Ripley is sent to Italy to bring back his libertine pal but grows enraged by Dickie's ambivalent feelings for Marge, a charming American dilettante. A dark reworking of Henry James's The Ambassadors, The Talented Mr. Ripley—immortalized in the 1998 film starring Matt Damon, Jude Law, and Gywneth Paltrow—is an unforgettable introduction to this debonair confidence man, whose talent for self-invention and calculated murder is chronicled in four subsequent novels.
Murder on the Orient Express by Agatha Christie
"The murderer is with us–on the train now . . ."
Just after midnight, the famous Orient Express is stopped in its tracks by a snowdrift. By morning, the millionaire Samuel Edward Ratchett lies dead in his compartment, stabbed a dozen times, his door locked from the inside. One of his fellow passengers must be the murderer.
Isolated by the storm, detective Hercule Poirot must find the killer among a dozen of the dead man's enemies, before the murderer decides to strike again . . .
A Coffin for Dimitrios by Eric Ambler
A chance encounter with a Turkish colonel with a penchant for British crime novels leads mystery writer Charles Latimer into a world of sinister political and criminal maneuvers throughout the Balkans in the years between the world wars. Hoping that the career of the notorious Dimitrios, whose body has been identified in an Istanbul morgue, will inspire a plot for his next novel, Latimer soon finds himself caught up in a shadowy web of assassination, espionage, drugs, and treachery.
The Postman Always Rings Twice by James M Cain
An amoral young tramp.  A beautiful, sullen woman with an inconvenient husband.  A problem that has only one grisly solution–a solution that only creates other problems that no one can ever solve.
First published in 1934 and banned in Boston for its explosive mixture of violence and eroticism,The Postman Always Rings Twice is a classic of the roman noir. It established James M. Cain as a major novelist with an unsparing vision of America's bleak underside, and was acknowledged by Albert Camus as the model for The Stranger.
Murder Must Advertise by Dorothy L. Sayers
Back in print and now available in trade paperback, Dorothy L. Sayers' classic tale of murder and scandal at a chic London advertising agency, featuring the dashing and brilliant Lord Peter Wimsey.
When executive Victor Dean dies from a fall down the iron staircase at Pym's Publicity, a posh London ad agency, Lord Peter Wimsey goes undercover to investigate. Before his tragic demise, the victim had tried to warn Mr. Pym, the firm's owner, about some scandalous behavior involving his employees.
Posing as a new copywriter, Wimsey discovers that Dean was part of an unsavory crowd at Pym's whose recreational habits link them to the criminal underworld. With time running out and the body count rising, Wimsey must rush to find the truth before his identity is discovered and a determined killer strikes again.T
The Killer Inside Me by Jim Thompson
Everyone in the small town of Central City, Texas loves Lou Ford. A deputy sheriff, Lou's known to the small-time criminals, the real-estate entrepreneurs, and all of his coworkers–the low-lifes, the big-timers, and everyone in-between–as the nicest guy around. He may not be the brightest or the most interesting man in town, but nevertheless, he's the kind of officer you're happy to have keeping your streets safe. The sort of man you might even wish your daughter would end up with someday.
But behind the platitudes and glad-handing lurks a monster the likes of which few have seen. An urge that has already claimed multiple lives, and cost Lou his brother Mike, a self-sacrificing construction worker fell to his death on the job in what was anything but an accident. A murder that Lou is determined to avenge–and if innocent people have to die in the process, well, that's perfectly all right with him.
In THE KILLER INSIDE ME, Thompson goes where few novelists have dared to go, giving us a pitch-black glimpse into the mind of the American Serial Killer years before Charles Manson, John Wayne Gacy, and Brett Easton Ellis's American Psycho, in the novel that will forever be known as the master performance of one of the greatest crime novelists of all time.
The Daughter of Time by Josephine Tey
 Voted greatest mystery novel of all time by the Crime Writers' Association in 1990, Josephine Tey recreates one of history's most famous—and vicious—crimes in her classic bestselling novel, a must read for connoisseurs of fiction, now with a new introduction by Robert Barnard.
Inspector Alan Grant of Scotland Yard, recuperating from a broken leg, becomes fascinated with a contemporary portrait of Richard III that bears no resemblance to the Wicked Uncle of history. Could such a sensitive, noble face actually belong to one of the world's most heinous villains—a venomous hunchback who may have killed his brother's children to make his crown secure? Or could Richard have been the victim, turned into a monster by the usurpers of England's throne? Grant determines to find out once and for all, with the help of the British Museum and an American scholar, what kind of man Richard Plantagenet really was and who killed the Little Princes in the Tower.
The Daughter of Time is an ingeniously plotted, beautifully written, and suspenseful tale, a supreme achievement from one of mystery writing's most gifted masters.
Rebecca by Daphne Du Maurier
With these words, the reader is ushered into an isolated gray stone mansion on the windswept Cornish coast, as the second Mrs. Maxim de Winter recalls the chilling events that transpired as she began her new life as the young bride of a husband she barely knew. For in every corner of every room were phantoms of a time dead but not forgotten—a past devotedly preserved by the sinister housekeeper, Mrs. Danvers: a suite immaculate and untouched, clothing laid out and ready to be worn, but not by any of the great house's current occupants. With an eerie presentiment of evil tightening her heart, the second Mrs. de Winter walked in the shadow of her mysterious predecessor, determined to uncover the darkest secrets and shattering truths about Maxim's first wife—the late and hauntingly beautiful Rebecca.
This special edition of Rebecca includes excerpts from Daphne du Maurier's The Rebecca Notebook and Other Memories, an essay on the real Manderley, du Maurier's original epilogue to the book, and more.
The Girl With the Dragon Tattoo by Stieg Larsson
Murder mystery, family saga, love story, and financial intrigue combine into one satisfyingly complex and entertainingly atmospheric novel.
Harriet Vanger, a scion of one of Sweden's wealthiest families disappeared over forty years ago. All these years later, her aged uncle continues to seek the truth. He hires Mikael Blomkvist, a crusading journalist recently trapped by a libel conviction, to investigate. He is aided by the pierced and tattooed punk prodigy Lisbeth Salander. Together they tap into a vein of unfathomable iniquity and astonishing corruption.
The Big Sleep by Raymond Chandler
When a dying millionaire hires Philip Marlowe to handle the blackmailer of one of his two troublesome daughters, Marlowe finds himself involved with more than extortion. Kidnapping, pornography, seduction, and murder are just a few of the complications he gets caught up in.
"Chandler [writes] like a slumming angel and invest[s] the sun-blinded streets of Los Angelos with a romantic presence."
–Ross Macdonald
Laura by Very Caspary
Laura Hunt was the ideal modern woman: beautiful, elegant, highly ambitious, and utterly mysterious. No man could resist her charmsnot even the hardboiled NYPD detective sent to find out who turned her into a faceless corpse. As this tough cop probes the mystery of Laura's death, he becomes obsessed with her strange power. Soon he realizes he's been seduced by a dead woman or has he?
Laura won lasting renown as an Academy Award-nominated 1944 film, the greatest noir romance of all time. Vera Caspary's equally haunting novel is remarkable for its stylish, hardboiled writing, its electrifying plot twists, and its darkly complex characters including a woman who stands as the ultimate femme fatale.
Femmes Fatales restores to print the best of women's writing in the classic pulp genres of the mid-20th century. From mystery to hard-boiled noir to taboo lesbian romance, these rediscovered queens of pulp offer subversive perspectives on a turbulent era. Enjoy the series: Bedelia; The Blackbirder; Bunny Lake Is Missing; By Cecile; The G-String Murders; The Girls in 3-B; In a Lonely Place; Laura; Mother Finds a Body; Now, Voyager; Skyscraper; Stranger on Lesbos; Women's Barracks.